Vane Women: The Writers
Lindsay Balderson | Sheila Binks | Joanna Boulter | Diane Cockburn | Julie Hogg | Pru Kitching | S.J. Litherland | Dorothy Long | Marilyn Longstaff | Felicity Manning | Pat Maycroft | Chris Powell | Annie Wright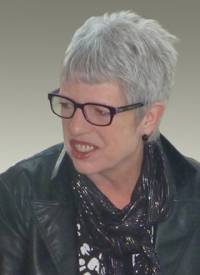 Lindsay Balderson
loves words and the intimate relationships they form with one another. Being a typical Piscean, she has a deep interest in the mystical and magical and these often weave spells in her writing. Born in Darlington, Lindsay lives there still. In 2005, she completed an MA in Creative Writing at the University of Newcastle.
Her work has been published in various anthologies; Northern Grit, Rewriting The Map, Collecting Stones, Love in Vane (Vane Women Press), Newcastle Masters (Newcastle University), A Sudden Clatter of Voices (Ottakars), Hill and Sky (The Lit Room Press), Land of Three Rivers - the poetry of North East England (Bloodaxe Books). Her first collection Stripping the Blackthorn was published by Vane Women Press in October 2008. A concoction of love, torture and reflection.
Stripping the Blackthorn
In October, take your man, making sure he's tall,
and lead him up some winding country path,
which you've sworn by oath never to reveal,
though you will when the need arises.
Here, find the fruit left by previous pickers
high on the blackthorn, just out of reach,
or on the wrong side, away from the track
where others have not dared venture.
With his long arms, have him pull down
branches and hold them while you take the berries,
plump, bitter, with a cloudy bloom, belying
their depth, their sweet purple-blue richness.
Scale a dry-stone wall together,
entangling yourselves in the barbed-wire fence
meant to keep the best inaccessible,
but embrace the danger, relish the risk.
Throw scorn on the thorn, welcome the scratch,
be not deterred by surface snagging,
nor troubled by bruised shins and knees,
your sloe harvest is well worth the wait.
Film Poem: Broken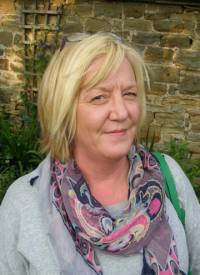 Sheila Binks
has never lived more than 10 miles from Mordon in Co. Durham, the village where she was born. Her first collection of poetry, One Hand Waving Free (Vane Women Press 2009) was written from happenings and observations throughout a sometimes troubled life. She used roadmaps and dreams of the USA, a country she has never yet visited, as momentary escape from raising four boisterous sons. She is fiercely proud of her northern roots.
Ooh, and she does love Californian Cabernet Sauvignon, west coasts, maps and map-books, history, sweets, karaoke and reading her words to people.
Lessons Learned at 15
We bike to a quiet place,
leave friends playing football
between seesaw and swings.
Sun burning sweat-stained t-shirts,
we kiss with tired mouths
where no-one can see us.
He smells different, sweet and spicy.
His lips taste of plum.
We smile the same sad smile,
sleep secretly under hawthorn,
his Sikh head on my stomach,
tears against a young girl's flesh.
I share his sorrow.
He should not be touching me,
my breast the wrong colour
against his beautiful hand.
His future is chosen, not by him,
and it won't include me.
Instead, I'll carry the blame,
dragged from a classroom,
pinned against a corridor window,
branded a temptress and whore.
He runs from his family,
disappears into a distant memory.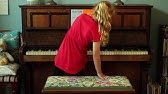 Film Poem: Piano Lessons