VANE WOMEN
We are a writing, performing and publishing collective, formed in 1991. We grew from a women's writing class at the late lamented Darlington Arts Centre in Vane Terrace.
Book us to do a reading or workshop; email us on:
Buy our books or find out more about our Press
Find out what we are doing on our Facebook community page.

Wherever you see an earring like this on our site, if you click it, you will come back to this menu of buttons, so you can explore other parts of our site.
Our latest publication: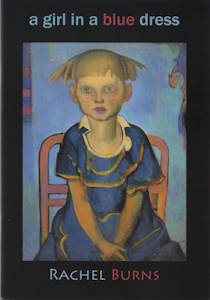 a girl in a blue dress by Rachel Burns
Just as Lowry paints scenes of working class life around him, Rachel Burns captures the very texture of life in Durham's hinterland of ex-mining villages: scent of wild garlic in the woods, the rasp of the pheasant, chat of pigeon fanciers. She even echoes Lowry's chalk-white skies. But her imagination is defiant. She's a misfit, reading the TLS in the Library, and observer of her former self, a girl in a blue dress, who wanders off. Is she Okay?
Her poems risk bleakness but deliver a dark baroque humour and play with household tensions as child, wife, mother. She's survived the hard way. It's a triumph that the colour, drama and tenderness of her voice have survived with her. Her poetry is a brilliant interlacing of innocence and experience with a thread of disquiet always present.
"In her debut pamphlet, Burns shows her extraordinary range and clarity. Her poems lure me into an intimate, almost confessional space; and I step into their heartfelt territory willingly, before I am returned to myself after the characteristic bite of her closing lines." — Elisabeth Sennitt Clough
a girl in a blue dress by Rachel Burns
£6.00 + £2.00 postage.
Order via our Press for the Press page
Joanna Boulter 1942–2019
Joanna Boulter was a founding member of Vane Women in 1991 and retained honorary status when she became too ill to continue performing and attending meetings. She was an extraordinary poet and person, as all who knew her will testify. She died on 13 September 2019 and we have a page with a tribute to her by Annie Wright.
Film Poems – Tell Her Story
Vane Women are very grateful to Darlington for Culture for awarding a grant to work with film-maker Jason Berge to create 12 short films, each inspired by one of the paintings in the 2017 Tell Her Story exhibition.
You can view the films on YouTube
---
Based on an original design by Vane Women
Logo design by Darlington Media Group
E-mail Vane Women at

Website designed and maintained by Cornwell Internet
Last update: 9 December 2019.
---