VANE WOMEN
We are a writing, performing and publishing collective, formed in 1991. We grew from a women's writing class at the late lamented Darlington Arts Centre in Vane Terrace.
Book us to do a reading or workshop; email us on:
Buy our books or find out more about our Press
Find out what we are doing on our Facebook community page.

Wherever you see an earring like this on our site, if you click it, you will come back to this menu of buttons, so you can explore other parts of our site.
Our latest collection: Blue Horse by Joanna Boulter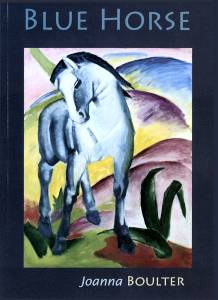 Published: October 2014
Press for the Press to order.
The Darlington launch of Blue Horse on November 10th was a lovely relaxed evening. Joanna was able to attend and read (beautifully) Le Cheval Bleu to open the first half, and Avebury after the interval – a poem dear to her heart, as both she and her husband Roger hail from Wiltshire. She was ably supported by Vane Women, who, as well as reading individual poems, joined together to share the reading of two of the longer poems: Studio and Water Notes.
Watch this space: A Newcastle reading from Blue Horse will be arranged in the New Year.
Harry Mead's recent review of Blue Horse in the Northern Echo highlights 'the strong intellect reflected in the poems and their often arresting imagery'. He adds 'the collection's tone is elegiac, and though its chief theme is death, it's impossible not to be moved." He concludes that the 'back cover tribute says Vane Women are proud to publish Joanna's valedictory masterpiece. Readers won't quarrel with either the statement or the judgement'
---
Joanna Boulter has cleared every hurdle to take her poetry to a higher state before she leaves us, not departing from this world but into the shade of an illness which will close down portals: memory, cognisance and time itself.
Blue Horse is her farewell collection of poetry, brilliant, daring, fluent, modernist and to be read at one sitting it is so compelling. We may believe she has drunk the milk of Paradise and in a final poem 'The Road to Xanadu' we glimpse the journey. She warns that 'art is dangerous'. Her poem 'Water Notes' vividly ends with a half formed merchild pleading for evolution, as the author attempts to stopper the bottle where wrecks lie. The conclusion may be that poetry is not to be denied, the blue horse takes on skycolour
and stands

dreaming
of invisible
stars.

having soared he is lame to earth
favours a cracked fetlock the cost of his courage

I want to go with him I would pay that price
The poems soar above existence and pre-existence to innate forms and extinct species, snatches of history, including her own. The words often dance beyond punctuation to a new order. She is surely at one with the stars. Beauty, strength, vibrancy, in every poem, her intellect steadily shining. Vane Women are proud to present her valedictory masterpiece. S.J. Litherland
---
Based on an original design by Vane Women
Logo design by Darlington Media Group
E-mail Vane Women at

Website designed and maintained by Cornwell Internet
Last update: 12 November 2014.
---