VANE WOMEN
We are a writing, performing and publishing collective, formed in 1991. We grew from a women's writing class at the late lamented Darlington Arts Centre in Vane Terrace.
Book us to do a reading or workshop; email us on:
Buy our books or find out more about our Press
Find out what we are doing on our Facebook community page.

Wherever you see an earring like this on our site, if you click it, you will come back to this menu of buttons, so you can explore other parts of our site.
Our latest collection: The eternally packed suitcase by Lisa Matthews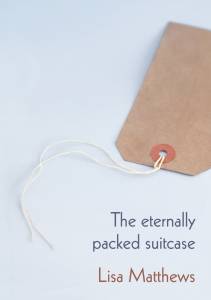 Packed Launch
Vane Women Press launched its latest book – Lisa Matthews' new collection, The eternally packed suitcase – at Newcastle City Library's Bewick Hall on Wednesday 20 January. Jo Colley and Crista Ermiya joined Lisa in reading from this wonderful new book. There was an excellent turn out to support Lisa, and library staff were kept busy wheeling out extra chairs to seat the later arrivals.
"Lisa Matthews's new collection is a portmanteau of astonishing elegance and wit, each section illustrating miniature worlds for the reader to enter and savour. The poet creates an atmosphere, a perfume which pervades the room each poem inhabits. Adventurous in form, they are anchored in the domestic, transformed and eroticised, and at times shifted to the surreal.
Women find their way into many of these poems, giving us tantalising glimpses of their imagined lives, like ghosts made flesh. The characters have a convincing three dimensionality, vivid lives shine within the confines of each poem.
The perfume and thrill of this collection linger long after you have made yourself put the book down" — Jo Colley
Published: December 2015
Press for the Press to order.
---
Based on an original design by Vane Women
Logo design by Darlington Media Group
E-mail Vane Women at

Website designed and maintained by Cornwell Internet
Last update: 16 December 2015.
---